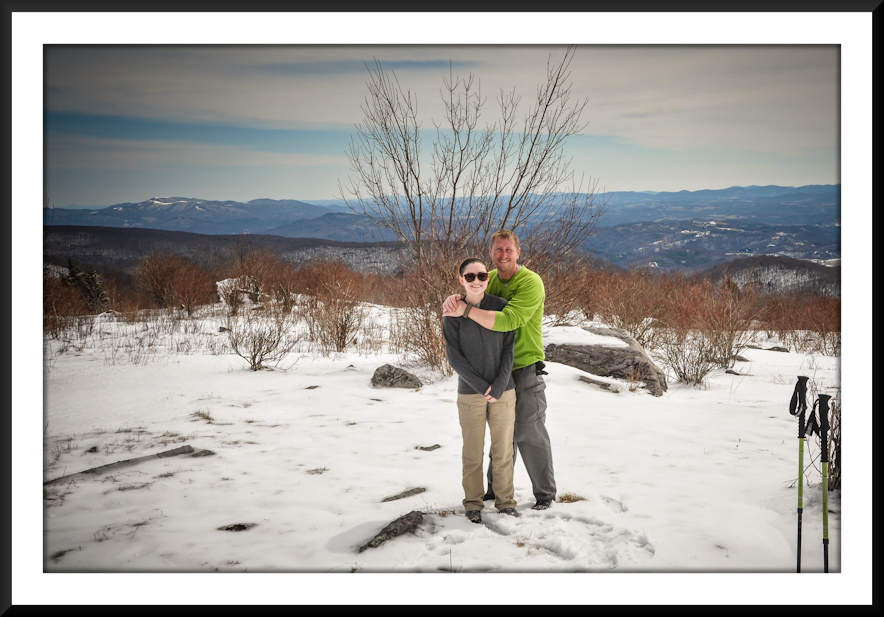 This is a loop hike in the Grayson Highlands that I tend to do about once per year, so I've posted it a couple times before, but not with all the snowy conditions that I experienced this time.
My daughter Taylor and her boyfriend Cameron joined me over their spring break around the end of March.  And the weather surprised us with with up to two feet of snow in many areas, with very icy conditions.  It made for some tough hiking to say the least.
We did my normal route and started at the Backpacker's Overnight Parking taking the blue-blazed Spur Trail up to the A.T., where we then went north on the A.T.
Things were quite pleasant until we passed Wise Shelter, where we had lunch.  From that point the snow got deeper and all the footprints of previous hikers went away.  We struggled to find the trail in many locations, but eventually made our way across Stone Mountain and to the Scales, where we set up camp.  We built a fire, and had Fajitas for dinnner before retiring early.
After a brutally cold night we continued on the A.T. until we ran into the Pine Mountain Trail, taking it to Rhododendron Gap.  This was probably some of the most difficult hiking on the trip as the snow started to melt… leaving a very slippery, slushy, muddy trail.  Climbing was difficult.    We spent some time hanging out at the big rock at Rhododendron Gap… taking some pictures before getting back on the A.T. (north) and making our way up to Wilburn Ridge.  After descending off the ridge, which took quite a long time due to the snow and ice, we ran into a bunch of feral ponies near Massie Gap.  It was a nice way to end our 12-mile hike.  Please refer to the "Hike Planner" and trail directions below for specific mileages, water sources, etc.
–

———————————-
Overall
Recommendation:
Great Loop for beginning backpackers looking for a lot of "wow!".
–
Outstanding
Features:
Virginia State Park, Appalachian Trail, A.T. Shelter, Feral Ponies, Amazing Vistas, Southern Appalachian Balds

–
Difficulty:
Moderate.

–
Driving:
From Interstate 81, take exit 35 (Chilhowie), turn onto route 762 Whitetop Rd. (at the bottom of the exit turn toward the Hardees). Continue on 762 for approximately 11.5 miles, then take a left on Route 600 (Whitetop Road). Follow this road for approximately 8.0 miles, then take a left on Highway 58. Follow Highway 58 for 7.5 miles, and then take a left into the Grayson Highlands State Park on Route 362. You will soon pass through a toll gate, where you will need to pay $3/night (I think). Follow the signs to the "backpackers overnight parking" area.
–
Trails:
From the parking area, you will see an a sign indicating the "A.T. Spur Trail. Follow this blue-blazed trail. After 0.8 miles of ascending, you will come to the junction on the Appalachian Trail. Take a right (heading north) on the A.T., following the white blazes. You will begin descending down in to the Little Wilson Creek valley. After about 2.5 miles you will pass by Wise Shelter on your right. Wilson Creek is about 0.1 miles past this shelter. From Little Wilson Creek, continue on the A.T. heading north and in about 2.5 miles of steady climbing you will reach the grass-covered Stone Mountain offering wonderful vistas. Continue another 0.5 mile and you will reach "The Scales", and old corral where there is a decent enclosed privy. From the Scales ascend for another 1.5 miles to Pine Mountain, where you will see a junction for the blue-blazed Pine Mountain Trail. Take a left on the Pine Mountain Trail. You will eventually come to a small spring that crosses the trail. If you take a left at this spring and walk down up ridge for a couple hundred yards you will come to a fenced spring that is very nice to draw water from. Continue on the Pine Mountain Trail (which is a total of 1.9 miles long), and you will reach Rhododendron Gap, where you will reconnect with the Appalachian Trail. The big rock at Rhododendron Gap is worth climbing as it offers wonderful views. From here, get on the A.T., still following the north white blazes. You will soon cross Wilburn Ridge, which I think is the highlight of the trek with amazing vistas. In a couple tenths of a mile you will begin descending, and go through the "Fatman Squeeze"… a natural rock formation tunnel. After another couple miles of descending you will come back into the state park at Massie Gap and soon complete the loop at the A.T. Spur Trail. Follow the Spur Trail back down to your vehicle. The entire trip is about 12 miles exactly.

–
Needed
Gear & Tips:
Basic backpacking gear. Weather can change dramatically on the grass covered peaks, so take extra clothing and colder rated sleeping bags than expected. There are numerous campsites all along this loop. Here are some with water sources: Wise shelter, Little Wilson Creek grove, wooded area while ascending Stone Mtn, The Scales, wooded area while climbing Pine Mountain, numerous areas on the Pine Mtn Trail, Rhododendron Gap (only in good weather), and some nice spots after the descent down off of Wilburn Ridge.
–
Distance:
12 miles.

–
Time
Allotment:
1 or 2 night trip. Can also be done on a long day-hike, with a about 7-10 hours.

–
Type:
Loop, with short out and back on a blue-blazed trail.

–
Vista
Rating (1-5):
4.5 – Grand views from many different locations.
–
Waterfall
Rating (based on a 1-50 scale):

None–
–
Water
Crossings (one way):
A few (very easy). Bigger streams have bridges.
–
Scrambling/Climbing:
Only if you want to climb the numerous rock outcroppings.
–
Hazards:
Weather can change dramatically on the grass-covered, exposed ridges. Check forecast for high winds or thunderstorms before attempting to camp on exposed ridge-lines or peaks.

–
Maps/GPS
info:
none
–
More
Information: